Webkinz Chow Chow
Dec 09
Posted by: admin in: Webkinz Pet of the Month
The Webkinz Chow Chow is a December 2012 Webkinz new pet release. You'll go bow wow for the Webkinz Chow Chow.
This pedigree pup has pretty brown fluffy fur. It loves to be pampered and is sure to smile whenever you give it something good to eat for a snack. This puffy lion dog is loyal and true.
When you adopt a plush Webkinz Chow Chow you also get to play with a virtual version of your pet on Webkinz World.
Its special item is Ornate Oriental Spa and its special food is Puffy Pedigree Pastry.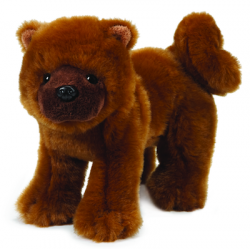 Webkinz Chow Chow Plushstuffed Animal with Tag
Webkinz Chow Chow Special Item and Food
Webkinz Chow Chow Plush
Chow Chow Dogs
The Chow Chow dog hails from China and is called Songshi Quan there, which means puffy lion dog. Chows have a bluish black tongue and thick creamy to cinnamon colored fur or double coat. Chow Chows are one of the oldest known breeds of dog. They usually live about 15 years.
Chow Chows are large stocky dogs with thick fur. They are good family dogs because they are well-mannered and good with children. They also get along well with smaller pets like cats if they are introduced to them while young.
Chows Chows tend to like to be the alpha dog in the home so owners need to make sure they take the lead and let the dog know who is boss. Otherwise, the dog can be dominant and bossy and difficult to train.
You should give Chow Chows adequate exercise as they can be lazy and fussy if they don't get they walks they need. They also need extra care and brushing to keep their thick coat free of knots, clean and shiny.
Chow Chow Dog