Webkinz Midnight Monster
Aug 31
Posted by: admin in: Halloween Webkinz, Where To Buy Webkinz
Webkinz Midnight Monster is the Webkinz Pet of the Month for October 2012 just in time for Halloween. The Webkinz Midnight Monster is a not so scary pet with blue fur, a tuff of purple on its head and black and white striped horns. It has a silly face with a big green nose and a toothy grin. This monster is one you won't mind finding under your bed.
Its special item is the Underpass Hideaway and its special food is Musty Mushrooms. This monster may be like the troll who lives under the bridge but it will let you take it home and be your friend.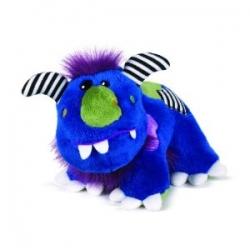 Webkinz Midnight Monster
Webkinz Midnight Monster Special Item and Food

Webkinz Midnight Monster Video
Halloween Webkinz
Halloween Webkinz are fun to collect and celebrate Halloween. They are nice for gifts and even party favors for your Halloween party guests. Webkinz Spooky Puppy is a new addition for Halloween 2012. It's so cute with its Halloween symbols pattern. Just don't be frightened by this cute pup. It's a seasonal pet for Halloween. Its special item is Haunted Doghouse and its special food is Unburied Bones.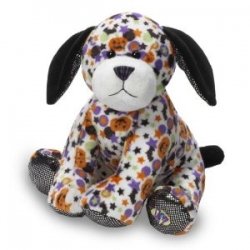 Webkinz Spooky Puppy Plush
Webkinz Spooky Pup Special Item and Food
Halloween Webkinz Pets