Winter Webkinz
Jan 16
Posted by: admin in: seasonal webkinz
Winter Webkinz are seasonal Webkinz plush pets that are fun to collect and give as gifts in the wintertime. There are lots of snowy and wintery stuffed animals that you can get from Webkinz.
This blue and silver Winter Fawn plush is perfect for playing with on a snowy winter's day. There are many other Winter Webkinz friends and decorations and items to play with online at Webkinz World too.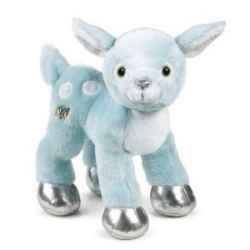 Webkinz Winter Fawn – Christmas Seasonal Release

Webkinz Winter Fawn Special Item and Food

Winter Webkinz Video
Snow Webkinz
Ice and Cold Webkinz
Webkinz Snowman
Webkinz Snowman is a fluffy plush snowman with a carrot nose and rosey cheeks. This Webkinz pet loves to play outside and likes to keep things cool. Its special item is Frosty Fireplace and its special food is Frosted Snowflakes.

Webkinz Plush Stuffed Animal Snowman
Webkinz Snowman Special Item and Food

Ice Webkinz
Winter is a time for snow and ice and here is a Webkinz Ice Dragon for your winter fortress. Its special item is Ice Tower Lookout and its special food is Mythical Milkshake. A perfect friend for an ice princess in a tower.
Webkinz Ice Dragon Special Item and Food

Webkinz Winter Candy Cane Harvest
Winter Webkinz Pets